Archive for the 'Good Reads' Category

Previously we've shared with you Sandra Kendell's 'Bushwalk', and today we have another beautiful book from her – 'Quoll'.
Quoll meets a cane toad and realizes she must get her family to safety. This story was inspired by the Island Ark program in the Northern Territory where quolls have been removed from the mainland (where they are prey for cane toads) and transported to two remote islands off Arnhem Land where they are now thriving.
This is a fantastic resource for parents or teachers to teach kids about how different species relate to each other in the natural environment, and to promote the important conservation work being done to preserve our unique Territory environment.

- Alison Anderson, Minister for Parks and Wildlife
The fabulous Anorak magazine is back for 2013 with an issue dedicated to the art of inventing! Covering the most brilliant minds behind the most brilliant inventions and the modern-day inventors who delight us with their fun creations. You can also learn the essential tools you need to become an inventor: dreaming gums, a no disturb sign and a cup of imagination tea amongst other things.
You'll also find plenty of colouring pages, word searches, counting games and a recipe for the yummiest toffee cake ever – who could resist?!
New to Anorak Magazine or not sure what its all about? Anorak Magazine, the 'happy mag for kids' is aimed at boys and girls aged between 6 and 12 years old. Its published five times a year, and is sold all around the world. A more vibrant and engaging kid's magazine is hard to find – my son treasures his issues and they've been read and re-read many many times! As well as the 'Inventions' issue we also stock a range of back issues which are timeless and guaranteed to amuse Anorak newcomers.
Fresh to our shelves this week is the enchanting new book from Jaquelyn Muller "I Love You 5 Lollipops". Elizabeth Rose loves her whole, fascinating family – all in different ways. Meet them and find out what this giggly girl holds dear! Kathryn Zammit's lively and high spirited illustrations bring Elizabeth Rose's fun story alive.
Jaquelyn Muller lives in Melbourne, Australia with her husband and two daughters and 'Millie' aka 'The Worst Best Dog in the World'. Of "I Love You 5 Lollipops" she says:
This story came about thanks to a throwaway line by my youngest daughter Elizabeth Rose… Like all mother's needing reassurance from their children, I asked Lizzie when she was about 3, 'how much to do you love me?' I don't have to tell you how she responded. What I loved about Elizabeth telling me that she loved me 5 lollipops is that, never in her short life has she ever consumed more than 1 lollipop in one sitting, so for her to tell me she loved me five of them must mean she loved me more than she can imagine – I am just going to run with that!

You may already be familiar with the range of handmade dolls clothes we offer at Little Sparrow, but if you're interested in something you can make yourself or a specific outfit you must pick up a copy of "Dress up Your Dolls" by Lise Nymark.
Playing dress up is such a fun time for children, and with the fun outfits made from "Dress up Your Dolls" they will have so many options to mix and match clothes to suit every occasion. All of the essentials are covered: dresses, pants, jumpers, hats, scarves, hair bands, and even shoes. The patterns, which are ideal for 30, 38, or 45cm dolls (12″, 15″ and 18″), can be easily combined and modified for customization and variety. The 90 patterns offer 33 complete outfits and includes everything from princess dresses and a safari outfit to winter wear and pirate costumes. Needle and yarn conversion charts are also included.

"Little Dolphin" by award winning author and illustrator Mark Wilson is a touching story of an orphaned dolphin who is taken in by another pod. Amongst her new kin she learns to communicate with clicks, how to look for food, and most importantly how to protect herself. Equipped with all the skills she needs to survive, Little Dolphin is able to help out another dolphin in distress and save his life. This story is a beautiful way for children to learn all about dolphins, and the threats to their habitat.
Mark Wilson will be holding workshops at Malvern, Prahran, Phoenix Park & Toorak/South Yarra Libraries as part of the Stonnington Literature Live Festival, from May 13 to May 25. Contact Stonnington Library for Details.

One cold winter morning, a hunter is walking through the woods with his dog. He drops his glove and a little mouse sees it and immediately scurries inside seeking warmth. Then a frog comes along and asks, "Any room for me?" The mouse invites him in with pleasure. Then a hare, a fox, a wild boar, and a large bear join them in the fallen glove. But what will happen when the hunter realizes his mitten is missing and returns?

Loek Koopmans is the writer and illustrator of  "Any Room For Me?" a book for babies and pre-schoolers. This playful tale salutes the kindness, generosity, hospitality, and fearleslsness of the mouse who gives up his little paradise to strangers.
Wouldn't you like to fly of on an oak leaf? Ride on a squirrels tail? Take tea in a tiny tree house, and deliver beards to gnomes? These are just some of the situations Woody and Pip find themselves in in this sweet seasonal book by the inimitable Elsa Beskow.
Adorned with Elsa Beskow's classic illustrations on every page, the adventures of Woody, Pip and little Hazel are sure to inspire some fabulous backyard play – just watch out for the angry trolls!

In 1969 Iona and Peter Opie set about taking an exhaustive survey of the games that children aged roughly between six and twelve years of age play when outdoors – and usually out of supervision! The Opies weren't interested in formal games and sports supervised by parents or teachers. They wanted the rough-and-tumble one child described as requiring "nothing but the players themselves." The Opies also desired the spirit of the play, variety and chaos, should not be lost in their recording. The result was their classic work "Children's Games in Street and Playground".
Their original single book has been divided into two. Both volumes record games played in the street, park, playground of more than 10,000 children from the Shetland Isles to the Channel Islands, although the majority of the information comes from children living in big cities such as London, Liverpool, Bristol and Glasgow.
This first volume focuses on starting a game, and games involving chasing, catching and seeking, and includes favourites such as What's the Time Mr Wolf, Stuck in the Mud, and British Bulldog, as well as around 40 other games. Each game is described in detail and gives the rhymes and saying children repeat while play them, together with the different names under which they are played with brief historical notes where relevant.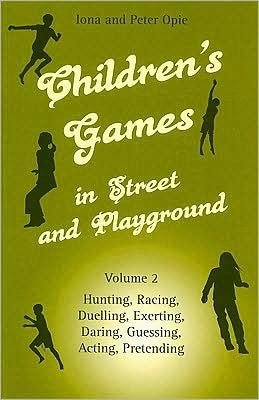 The second volume focuses on games involving seeking, hunting, racing, duelling, exerting, daring, guessing, acting and pretending. More than 85 games are described in detail including the rhymes and sayings children repeat while playing them, together with the different names under which they are played.
the Opies believed the children of the 1960s were often thought "to be incapable of self-organization, and to have become addicted to spectator amusements; to the extent that adults must be relied on to provide play materials, ideas and time to play with them." Sounds familiar to our concerns about television and computer games, and over-scheduling children with oganized classes and play dates. "However much children may need looking after, they are also people going about their own business within their own society." There are important lessons to be learned from this book about giving children the time and physical space to be themselves with other children.
Storytelling traditions all over the world tell of little folk – gnomes, dwarves leprechauns and many others. Gnome figures are fun for children to make and play with, and they appeal to their vivid imaginations.
Thomas and Petra Berger show how to make gnomes out of walnuts, twigs, wool and paper, as well as from a variety of other media. There are plenty of different types of gnome to keep children amused for hours. Any of the characters in the book would be at home on a seasonal nature table. The Gnome Craft Book includes instructions for making Astrid Lindgren's classic gnome the Tomten.
At last it feels like Autumn so you can start shifting your mind to the next collection of seasonal activities you and your family can collaborate on. Like the last book we showed you in this seasonal series, Autumn Nature Activities is packed full of fun nature activities that will help children engage with the season and learn practical new skills. With so many factors coming between children and free exploration of their environment this is just the book to help them reconnect!
Irmgard Kutsch & Brigitte Walden have included a mix of indoor and outdoor activities for Autumn, including picking and cooking fruit, basket-making, building houses and shelters, looking after birds, working with beeswax (don't forget we sell beeswax sheets from Queen Bee!) and making paper. The activities in this book are based on practical experience from the Children's Nature and Garden Centre in Reichshof, Germany and are fully tried and tested.
Autumn by Gerda Muller is a sturdy board book, without text, making it ideal as a base for creating your own stories about. The rich tones of the season are captured in the charming illustrations and Autumn shows such seasonal activities as raking leaves, floating boats in puddles, apple picking, collecting acorns, and kite making and flying!